30 SCOOPS – 30 DAY SUPPLY
Kickstart your mornings with Nootropic Greens™ – the ultimate daily greens superfood powder for energy, immunity, cognition, digestion, skin and detoxification. It contains a delicious blend of vitamins, minerals, organic wholefood nutrients, superfoods, mushrooms and collagen, along with specialized nutrients and nootropics, including N-Acetyl-Cysteine (NAC), Alpha-GPC, Lion's Mane and proprietary ingredients with proven clinical efficacy like KSM66® Ashwagandha.
45 DAY BACK MONEY GUARANTEE.
View full details
NOOTROPIC GREENS™ benefits
COGNITIVE FUNCTION

ENERGY PRODUCTION

IMMUNE SUPPORT

DIGESTIVE HEALTH

NERVE & MUSCLE FUNCTION

HEALTHY DETOXIFICATION

HEALTHY AGING SUPPORT

HEALTHY HAIR, SKIN & NAILS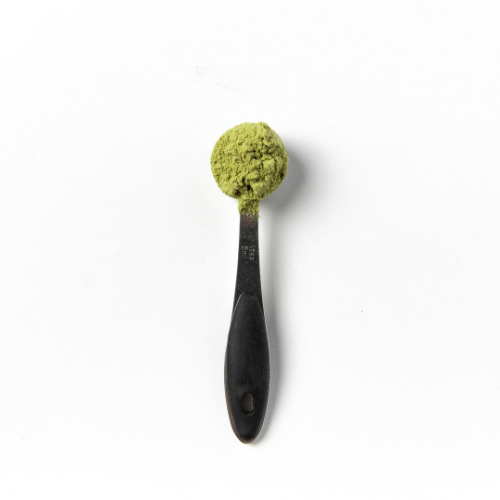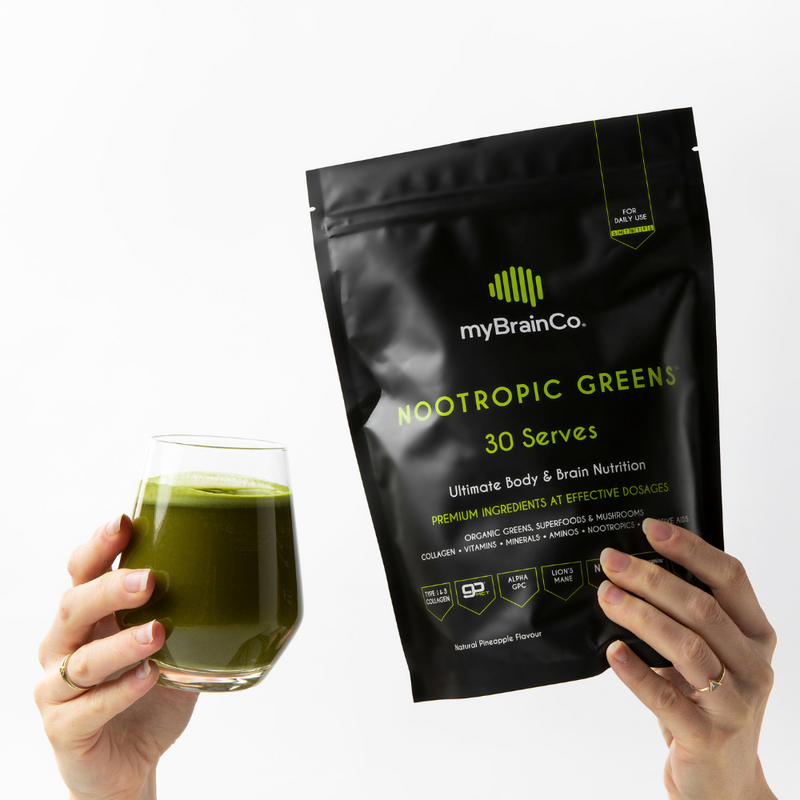 INGREDIENTS PER SERVING
ORGANIC GREENS, VEGETABLES & FRUITS BLEND
LIVER, DETOX & DIGESTION BLEND
ESSENTIAL VITAMINS & MINERALS BLEND
NOOTROPIC & ANTIOXIDANT HERBAL BLEND
ORGANIC NOOTROPIC & IMMUNE MUSHROOM BLEND
SERVING SIZE: 15 g
SERVES PER BOTTLE: 30
| | | |
| --- | --- | --- |
| | Av. Quantity per 15 g | Av. Quantity per 100 g |
| Energy (kj) | 217 | 1440 |
| - (kcal) | 52 | 344 |
| Protein | 6.5 g | 43.2 g |
| Fat (total) | 0.8 g | 5.4 g |
| Fat (saturated) | 0.7 g | 4.8 g |
| Carbohydrates (total) | 4.2 g | 27.6 g |
| Carbohydrates (sugars) | 0.5 g | 3.4 g |
| Dietary fibre | 2.0 g | 13.3 g |
| - resistant starch | 0.2 g | 1.3 g |
| Sodium | 28 mg | 190 mg |
| Probiotic Count (shelf stable) | 2 Billion CFU | 13 Billion CFU |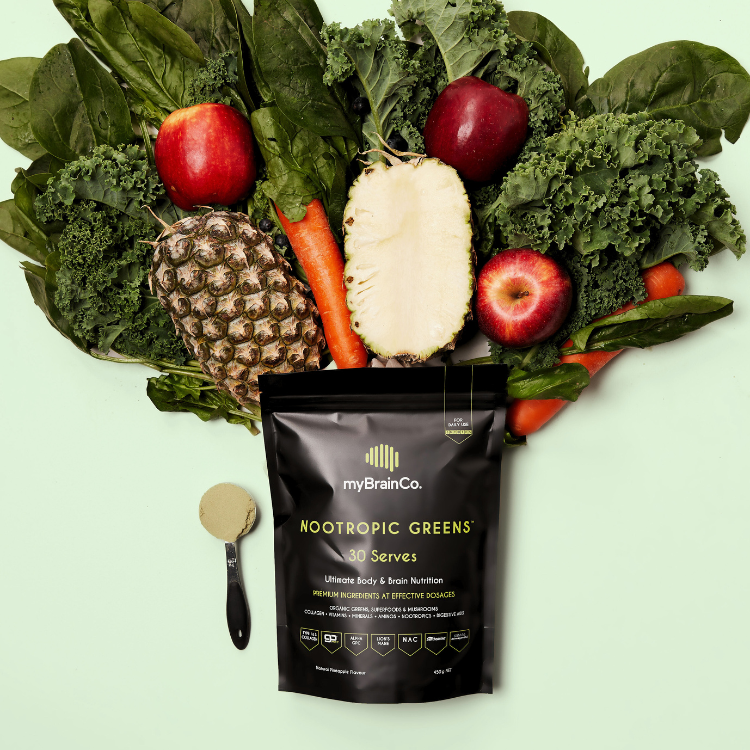 myBrainCo difference
It's essential to know precisely what's in a supplement to make an informed decision on value, safety and efficacy. This is why Nootropic Greens lists all our ingredients and their quantities, rather than hiding behind 'proprietary blends' that could contain only trace amounts of key ingredients or promote misleading inflated 'equivalent' herbal quantities rather than listing actual inputs.
No 'proprietary blends'
No misleading 'equivalent' herbal values
Nootropic Greens is everything you would expect from a healthy 'green' drink with vitamins, minerals, organic greens, superfoods, mushrooms, prebiotics and probiotic, but then it is also so much more! This formula includes 4 grams of premium hydrolysed marine and bovine, type 1 and 2 collagen per serve. It also has a specialised lens on brain health and cognitive function, with nootropic ingredients like Lion's Mane Mushroom, MCT and Alpha GPC.
Nootropic Greens contains multiple proprietary ingredients, which are patented and trademarked forms of nutrients and herbs that tend to offer superior efficacy and quality over standard 'generic' versions.
KSM66® is the most studied extract of the adaptogen Ashwagandha available on the market, with 24 gold-standard clinical studies demonstrating benefits in stress and anxiety, memory and cognition, sleep quality, anti-aging, endurance and training recovery.
Quatrefolic® is the most advanced form of active folate available on the market. Clinical studies demonstrate 9.7 times greater absorption than standard folic acid and 1.12 times better absorption than alternative calcium salt-based active folates.
Suntheanine® is the leading and most pure form of L-theanine available today and promotes relaxation and mental clarity. 
goMCT® is an excellent source of medium-chain triglycerides derived from coconut. The body converts this healthy fat into ketones, a clean alternative energy source to glucose that provides long-lasting energy to the brain and helps to improve focus.
Nootropic Greens includes effective dosages of specialised amino acids and nutrients often purchased as standalone products.
Alpha-GPC (alpha-glycerylphosphorylcholine) is a natural compound found in the brain. This nootropic compound is mainly concentrated in the grey matter of the brain, where it plays a vital role in producing and releasing acetylcholine, a neurotransmitter involved in learning, memory, and other cognitive functions.
N-Acetyl-Cysteine (NAC) is a naturally occurring amino acid with powerful antioxidant and immune-boosting properties. NAC acts as a precursor to glutathione, the body's master antioxidant, and has been shown to help increase glutathione levels. NAC supports healthy detoxification and immune, lung, liver and kidney function.
Acetyl-L-carnitine (ALCAR) is a form of carnitine that is more easily absorbed by the body and can readily cross the blood-brain barrier. This makes it a superior option for supporting brain health and cognitive function compared to regular L-carnitine. ALCAR plays a crucial role in energy metabolism by transporting fatty acids into the mitochondria, the powerhouses of cells, where they are converted into energy. ALCAR also acts as a precursor to the neurotransmitter acetylcholine related to memory and learning.
L-Tyrosine is an amino acid the body uses to produce essential compounds such as neurotransmitters involved in mood regulation and cognitive function. Studies have shown it may improve mental performance in conditions where cognitive performance is compromised by stress, fatigue, or sleep deprivation.
Focus on the brain
Good nutrition is the cornerstone of good health, but meeting our daily requirements is becoming increasingly more difficult due to dietary choices and nutrient-devoid foods. The nutrient-dense ingredients in Nootropic Greens can help ensure you're getting the essential nutrients your brain needs to function at its best.
NEUROPROTECTIVE PROPERTIES
Many of the ingredients in Nootropic Greens have 'neuroprotective' properties, meaning they can help prevent or reduce damage to neurons while also often supporting the regeneration and growth of new neurons and synapses. An example is Lion's Mane Mushroom - this fantastic mushroom has been found to stimulate the production of nerve growth factor (NGF), which supports the growth, maintenance, and survival of neurons.
NEUROTRANSMITTER MODULATION
Neurotransmitter modulators are substances that affect the activity of neurotransmitters in the brain, which are the chemical messengers that enable communication between neurons. Nootropic Greens contains natural ingredients known to have neurotransmitter modulation properties; for example, Alpha-GPC is a precursor to acetylcholine, a neurotransmitter that is essential for memory and learning.
Nootropic Greens is rich in antioxidants, including NAC, vitamin C, vitamin E, and Grape Seed. NAC boosts glutathione, protecting the brain from oxidative stress. Vitamins C and E are potent antioxidants that protect neurons from damage. Grape Seed contains proanthocyanidins, which exhibit strong antioxidant properties, collectively supporting brain health and reducing the risk of age-related cognitive decline.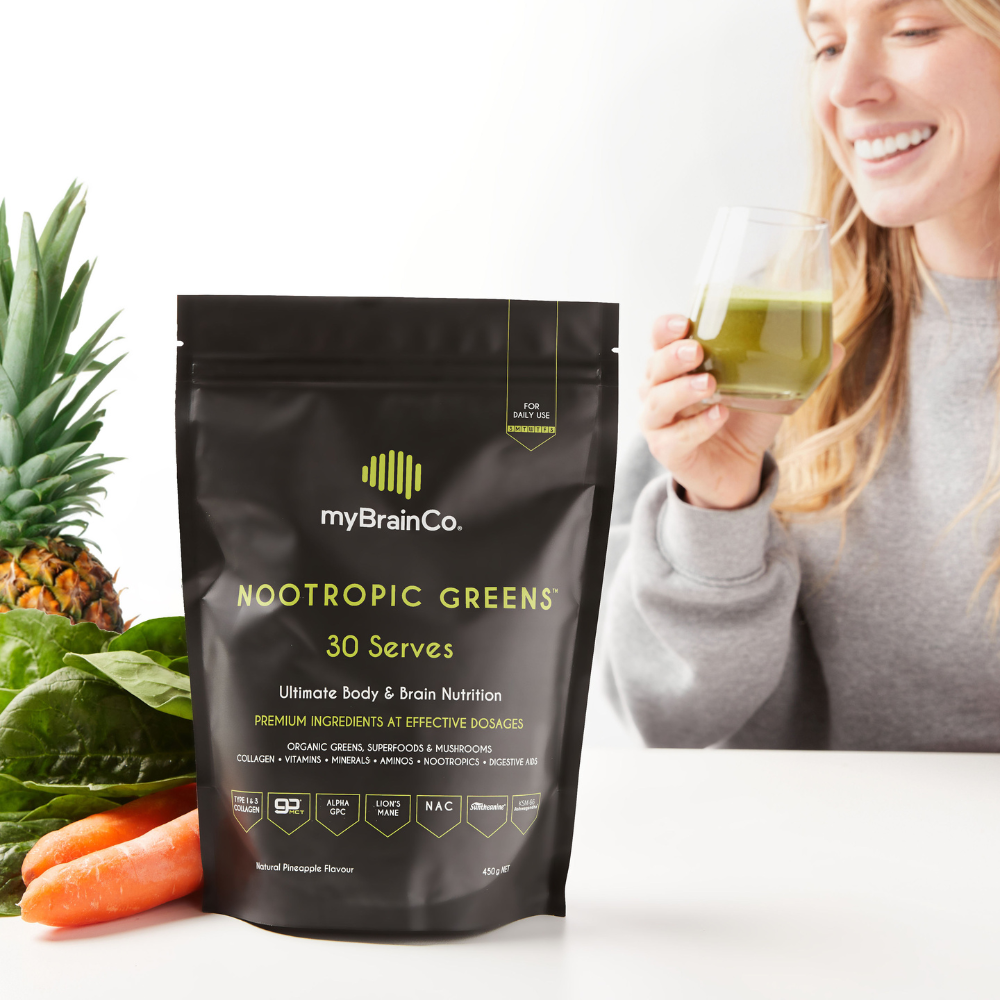 Frequently asked
IS NOOTROPIC GREENS SAFE TO USE WHILE PREGNANT OR BREASTFEEDING?
No, Nootropic Greens contains many ingredients with insufficient safety data for use during pregnancy and breastfeeding. If you become pregnant whilst on Nootropic Greens simply discontinue using the product.
WHEN CAN I EXPECT TO SEE BENEFITS FROM NOOTROPIC GREENS?
Results are unique to each individual and influenced by lifestyle, age and health issues. However, Nootropic Greens starts working in around 30 minutes, and most people experience benefits within the first few weeks. We recommend using Nootropic Greens for at least three months to experience the full cognitive and health-promoting benefits.
WHERE IS NOOTROPIC GREENS MANUFACTURED?
Nootropic Greens is produced in an Australian facility that adheres to strict goods manufacturing practices (GMP) and is licenced and audited by the Therapeutic Goods Administration (TGA).
IS NOOTROPIC GREENS SAFE FOR LONG-TERM USE?
You can continue taking Nootropic Greens for as long as the formula brings you benefit. However, if you experience any adverse effects, please stop using it and contact our clinical support team.
WILL NOOTROPIC GREENS INTERACT WITH MY MEDICATIONS?
Nootropic Greens contains herbs and nutrients that work similarly to some medications or can influence pathways responsible for metabolising medications. Therefore, if you take any prescribed medication, such as warfarin or anti-depressants, please check with your healthcare practitioner before commencing.
DOES NOOTROPIC GREENS CONTAIN ALLERGENS OR ANIMAL PRODUCTS?
Nootropic Greens contains collagen, so is not suitable for vegans. It is free of GMOs, gluten, dairy, peanut, tree nuts, soy, egg, sesame, salicylates, artificial colours, flavours, preservatives and sweeteners.
Money-back guarantee
45-day money back guarantee on all first time purchases. While our team of practitioners have put months of research into developing the very best products, we recognise they wont suit everyone. So if you're not happy, we will offer you a full refund, minus any shipping costs. Conditions apply.