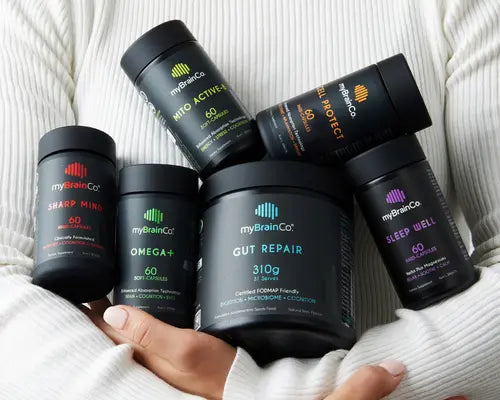 Manufactured in Australia
At myBrainCo, we take great pride in our products, which meet the highest GMP quality standards and are crafted with care in Australian TGA-licensed facilities. As the regulatory body for therapeutic goods in Australia, the TGA regularly audits our production facilities to ensure that we maintain the highest quality control standards.
But we don't stop there. We're committed to going above and beyond to guarantee the quality and safety of our products. That's why we conduct extensive testing on all aspects of production, from the raw materials we use to the finished products you receive. We believe in the importance of maintaining the highest quality standards, and our ongoing stability testing ensures that every batch meets our high expectations.
Premium ingredients
Here at myBrainCo, we're passionate about quality and efficacy. That's why we use the highest-quality ingredients in our products, including premium proprietary nutrients backed by clinical studies, certified organic ingredients, superior standardised herbs, and metabolically active-form vitamins. We also use innovative and clinically validated delivery technologies that maximise absorption to ensure the best outcomes for our customers.
We use proprietary 'trademarked' forms of nutrients and herbs across our product range to better support our customer outcomes. These ingredients offer superior efficacy and quality compared to alternative generic forms. We typically select proprietary ingredients backed by gold-standard human clinical trials demonstrating their effectiveness. Examples include: HydroCurc®, KSM-66®, BacoMind®, SharpPS®, Suntheanine®, Sunfiber®, Veri-Sperse®, AstaReal® and DeltaGold®.
PATENTED DELIVERY TECHNOLOGIES
Maximising the absorption of ingredients is essential to getting the most out of your health supplements. This is especially true for fat-soluble nutrients that are not easily absorbed in the water environment of the gut. This is why we use innovative delivery technologies like LipiSperse® and AquaCelle® that have been clinically proven to significantly increase the absorption of nutrients such as essential fatty acids, curcumin, and CoQ10.
METABOLICALLY ACTIVE VITAMINS
We use metabolically active vitamins in our products as they offer superior absorption and utilisation in the body over the more commonly sold standard vitamin formats. This means improved efficacy and better results.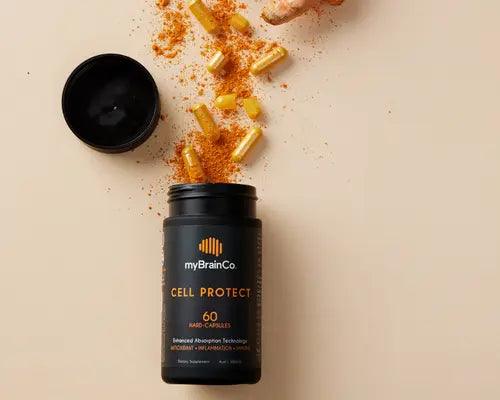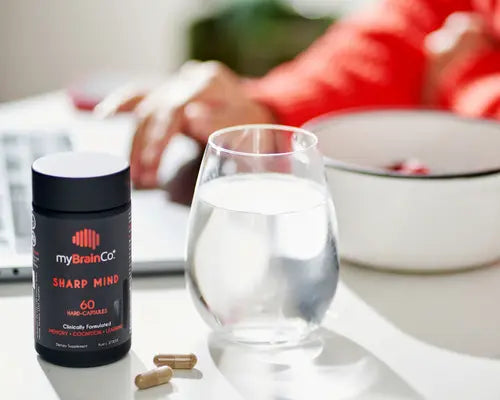 Product development
myBrainCo. is committed to developing high-quality and effective products. Our practitioners understand the importance of applying in-depth research when developing a new formulation.
We invest heavily in staying up to date with the latest advancements in the nootropic and nutraceutical space, and our experienced product designers ensure that every dose provides maximum benefit for our customers.
With a focus on best practices and rigorous research, we create superior natural health solutions that promote optimal brain health and cognitive function.
We recognise the importance of knowing exactly what you're putting into your body, so we include a complete list of ingredients for every product on our website and product labels. We also have a strict non-GMO policy across our supply chain and carefully test every new formula for potential allergens. Our products are also free from artificial colours, preservatives, and sweeteners.
SUSTAINABLE AND ETHICAL PRACTICES
Sustainable sourcing is of significant importance to us and many of our customers. Where possible, we source sustainable, ethical and environmentally conscious ingredients such as our specialised VIVOMEGA™ ULTRA fish oil concentrate used in our Omega+ product, certified by Friend of the Sea and IFFO RS for sustainable sourcing practices.