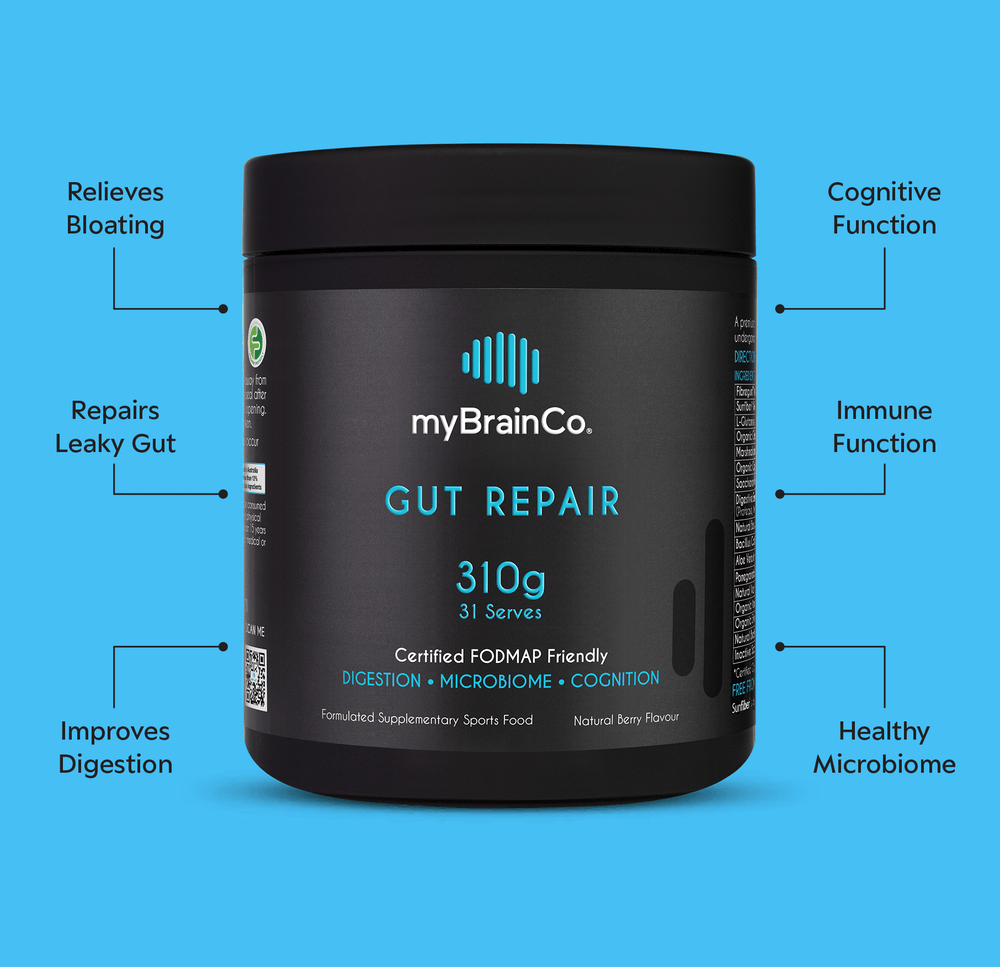 GUT REPAIR™
GUT REPAIR™
Multi-Action Gut Health & Digestion
31 scoops – 31 day supply
Gut Repair™ is an award-winning, low FODMAP-certified, multi-action formula that supports optimal gut health and digestive function. It relieves bloating, soothes irritation and promotes a healthy microbiome; suitable for IBS, leaky gut and SIBO. It contains probiotics, prebiotic fibre, resistant starch, digestive enzymes, glutamine, soothing herbs and supportive nutrients in one convenient, great-tasting serve.
45 DAY BACK MONEY GUARANTEE.
View full details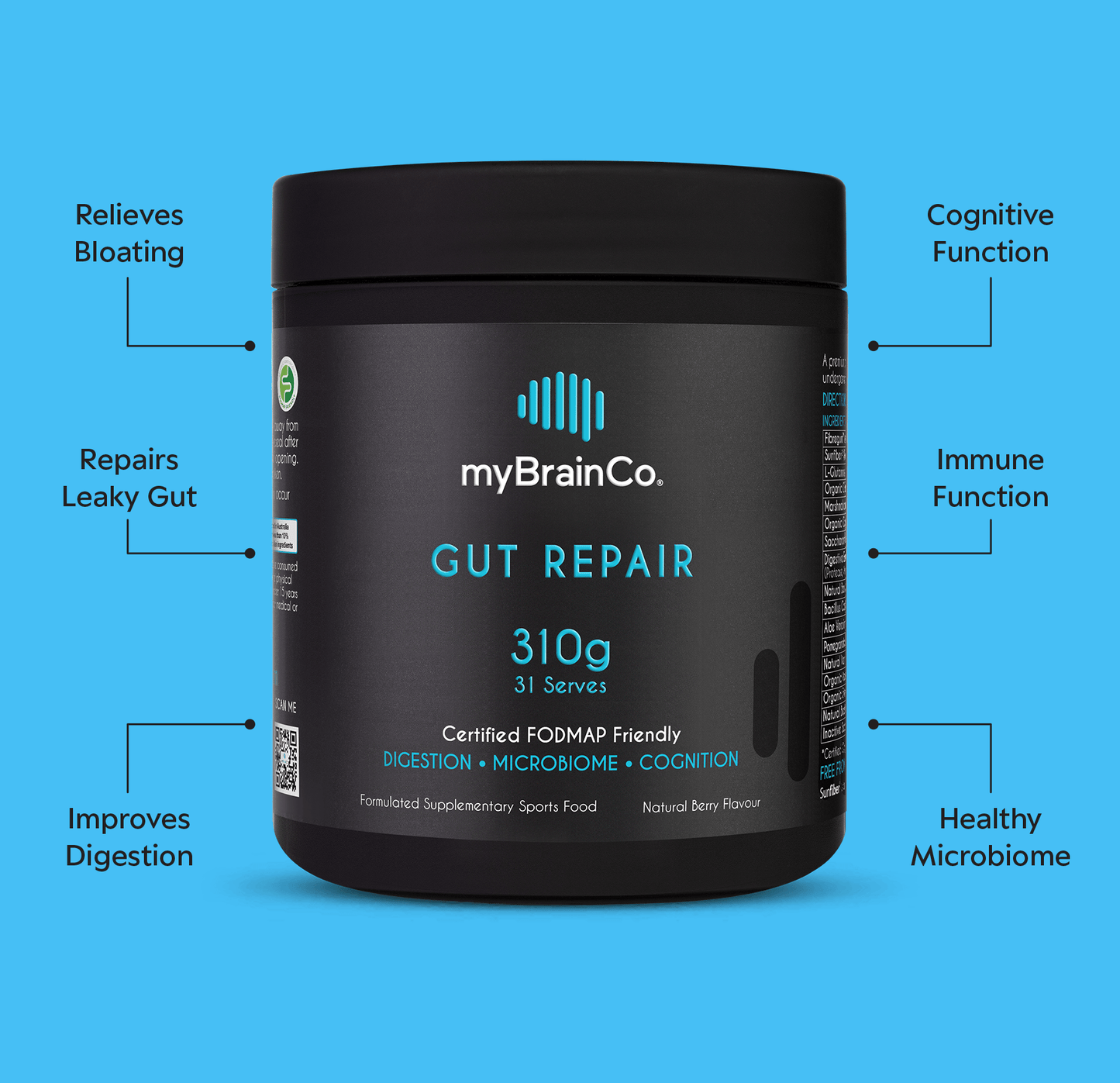 GUT REPAIR™ benefits
RELIEVES ABDOMINAL BLOATING

SOOTHES IRRITATION AND INFLAMMATION

PROTECTS GUT LINING (LEAKY GUT)

STIMULATES GOOD GUT BACTERIA GROWTH

PROMOTES A HEALTHY GUT MICROBIOME

AIDS DIGESTION AND ABSORPTION

AIDS REGULAR AND CONSISTENT STOOLS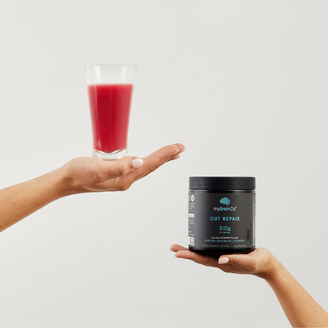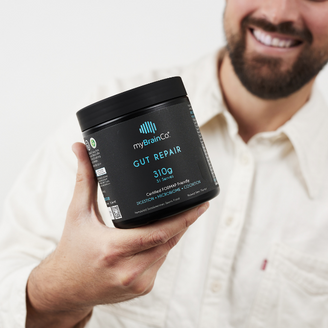 INGREDIENTS PER SERVING
ORGANIC GREEN BANANA RESISTANT STARCH
ORGANIC ACEROLA - VITAMIN C
SACCHAROMYCES CEREVISIAE – ZINC
SERVING SIZE: 10g
SERVES PER BOTTLE: 31
| | | |
| --- | --- | --- |
| | Av. Quantity per 10 g | Av. Quantity per 100 g |
| Energy (kj) | 79 | 792 |
| - (kcal) | 19 | 189 |
| Protein | 0.2 g | 1.7 g |
| Fat (total) | 0.0 g | 0.2 g |
| Fat (saturated) | 0.0 g | 0.1 g |
| Carbohydrates (total) | 4.6 g | 46 g |
| Carbohydrates (sugar) | 0.3 g | 2.9 g |
| Dietary Fibre | 4.7 g | 47 g |
| - soluble fibre | 4 g | 40 g |
| - resistant starch | 0.7 g | 7.0 g |
| Sodium | 4 mg | 43 mg |
| Vitamin C | 10 mg | 100 mg |
| Zinc | 1.2 mg | 12 mg |
| Probiotic Count (shelf stable) | 7 Billion CFU | 70 Billion CFU |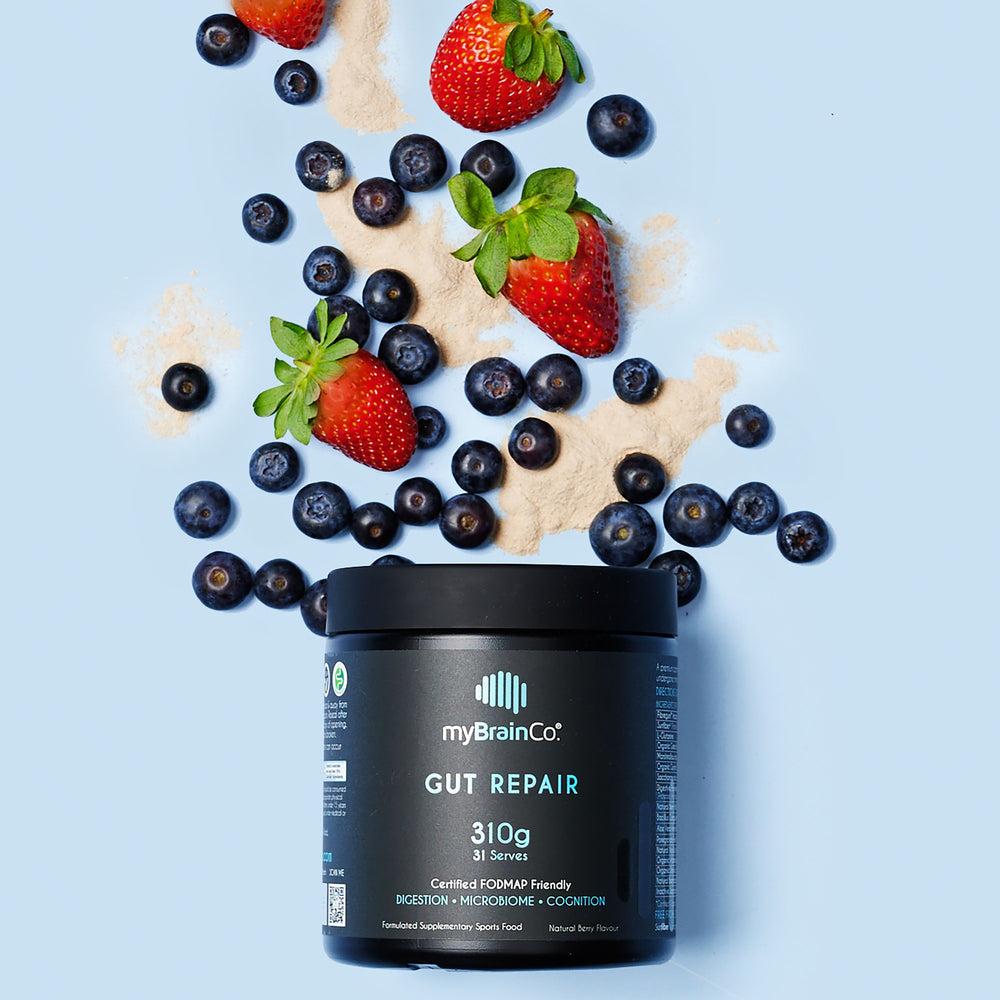 myBrainCo difference
Gut Repair received a coveted people's choice award from the respected publication - Wellbeing. After 17,000 reader votes and hundreds of product entries, Gut Repair was the category winner for - Supplements & Health Tonics.
FODMAP FRIENDLY CERTIFIED
Gut Repair is lab-certified FODMAP friendly, so it will help alleviate FODMAP digestive issues rather than exacerbate them like many other gut products containing ingredients like inulin.
Gut Repair contains two proprietary prebiotic fibres - Sunfiber® and Fibergum™. Both ingredients are supported by specific clinical trials demonstrating their efficacy in supporting digestive health.
Gut Repair uniquely contains probiotics, prebiotics, glutamine, digestive enzymes and soothing herbs in one convenient product.
Gut Repair has been carefully formulated by our practitioner team to meet optimal clinical and therapeutic dosages.
GREAT TASTING AND EASILY MIXED
Unlike similar products, our customers rave at how great Gut Repair tastes and mixes. This was central to product development, as compliance is the key to results.
We have gone all out in formulation design and material sourcing to ensure this product is suitable for everyone.
Focus on the brain
The gut is often referred to as the second brain due to having its own nervous system called the Enteric Nervous System (ENS).
The gut-brain axis refers to a bidirectional (2-way) link between the gut and brain via the enteric nervous system (ENS) and central nervous system (CNS). The gut-brain axis links the emotional and cognitive centres of the brain with intestinal functions via the vagus nerve. Have you ever experienced butterflies in your tummy or had a gut feeling? This sensation is an example of how emotions can directly influence gastrointestinal symptoms. But, the same is true going the other way, with growing research showing how our microbiota and gut health can directly influence mood and cognitive function.
NEUROTRANSMITTER PRODUCTION
The gut microbiota produces neurotransmitters more commonly associated with the brain. In fact, it is estimated around 90% of our serotonin is produced in the gut.
Poor gut health can lead to a condition called 'Leaky Gut', where food particles, bacteria and waste products seep directly into the bloodstream, resulting in systemic inflammation. This inflammation is known to subsequently cause a 'leaky brain', damaging your blood-brain barrier and allowing molecules to inflame the brain itself. Many mood disorders and cognitive issues are associated with brain inflammation.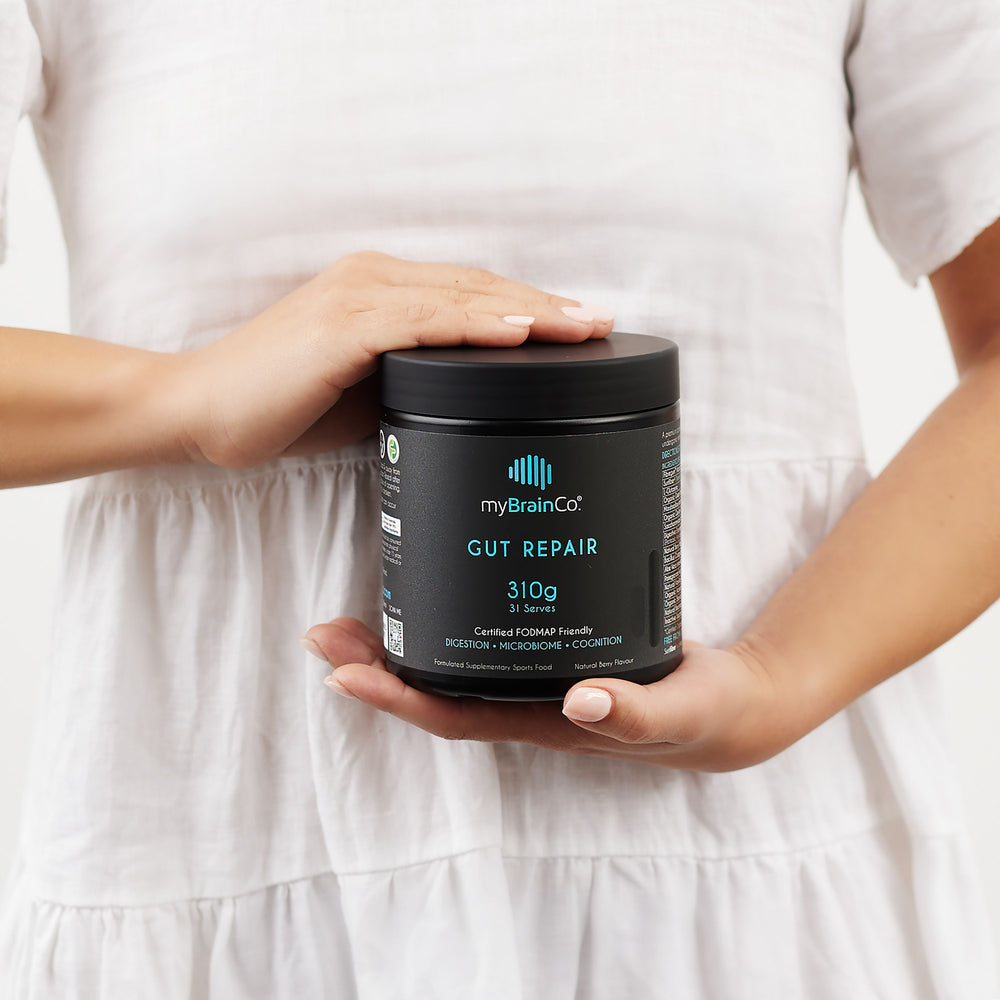 Frequently asked
IS GUT REPAIR SAFE TO USE WHILE PREGNANT OR BREASTFEEDING?
No, Gut Repair is unsuitable during pregnancy and breastfeeding due to insufficient safety data for many herbs and other nutrients contained in the formula.
WHEN IS BEST TO TAKE GUT REPAIR?
Experience the benefits of Gut Repair by enjoying it first thing in the morning or shortly after dinner if you struggle with sleep. Consistency is key to unlocking its full potential, so find a time that fits your routine and stick to it. If you have a sensitive stomach, start with a teaspoon and gradually increase the dosage over a few days or weeks. This gentle approach will help your body adjust to the supplement, ensuring a smoother and more enjoyable Gut Repair journey.
IS GUT REPAIR LOW FODMAP SUITABLE?
Yes, Gut Repair has been certified FODMAP-friendly based on lab test results. Unlike many other gut products, we've carefully formulated Gut Repair to use only low FODMAP ingredients, avoiding common problem ingredients like inulin.
WHO SHOULD USE GUT REPAIR?
Gut Repair is an ideal solution for individuals experiencing digestive concerns such as bloating, irregular bowel movements, food sensitivities, and even those with IBS or other inflammatory bowel disorders. Additionally, Gut Repair can be beneficial for those dealing with brain fog and low moods.
WHERE IS GUT REPAIR MANUFACTURED?
Gut Repair is manufactured in Australia to strict GMP standards. All ingredients undergo third-party lab testing before use. The final product must also pass rigorous lab testing before we can sell it. This testing helps guarantee product quality, safety and efficacy.
IS GUT REPAIR SAFE FOR LONG-TERM USE?
You can continue to take Gut Repair for as long as the formula brings you benefits.
DOES GUT REPAIR CONTAIN ANY ALLERGENS OR ANIMAL PRODUCTS?
Gut Repair has been designed to suit everyone. Gut Repair is tested and free from gluten, dairy, lactose, peanut, all tree nuts, soy, sesame seed, egg, salicylates, lupin, anything artificial, animal products and GMOs.
IS GUT REPAIR FREE OF SIDE EFFECTS?
Any product that modulates the microbiome can occasionally cause additional gas and discomfort. This is usually a sign that the product is working. These side effects are typically short-lived and can be comfortably mitigated through dose management - half dose for the first couple of weeks and/or every second day.
WILL GUT REPAIR INTERACT WITH MY MEDICATIONS?
Gut Repair should be taken at least 1 hour away from any prescribed medications. If taking medications, we recommend speaking to your healthcare professional before starting a new supplement regime.
DOES GUT REPAIR NEED TO BE REFRIGERATED?
Gut Repair does not require refrigeration but must be stored below 25° Celcius in a cool, dry place.
Money-back guarantee
45-day money back guarantee on all first time purchases. While our team of practitioners have put months of research into developing the very best products, we recognise they wont suit everyone. So if you're not happy, we will offer you a full refund, minus any shipping costs. Conditions apply.