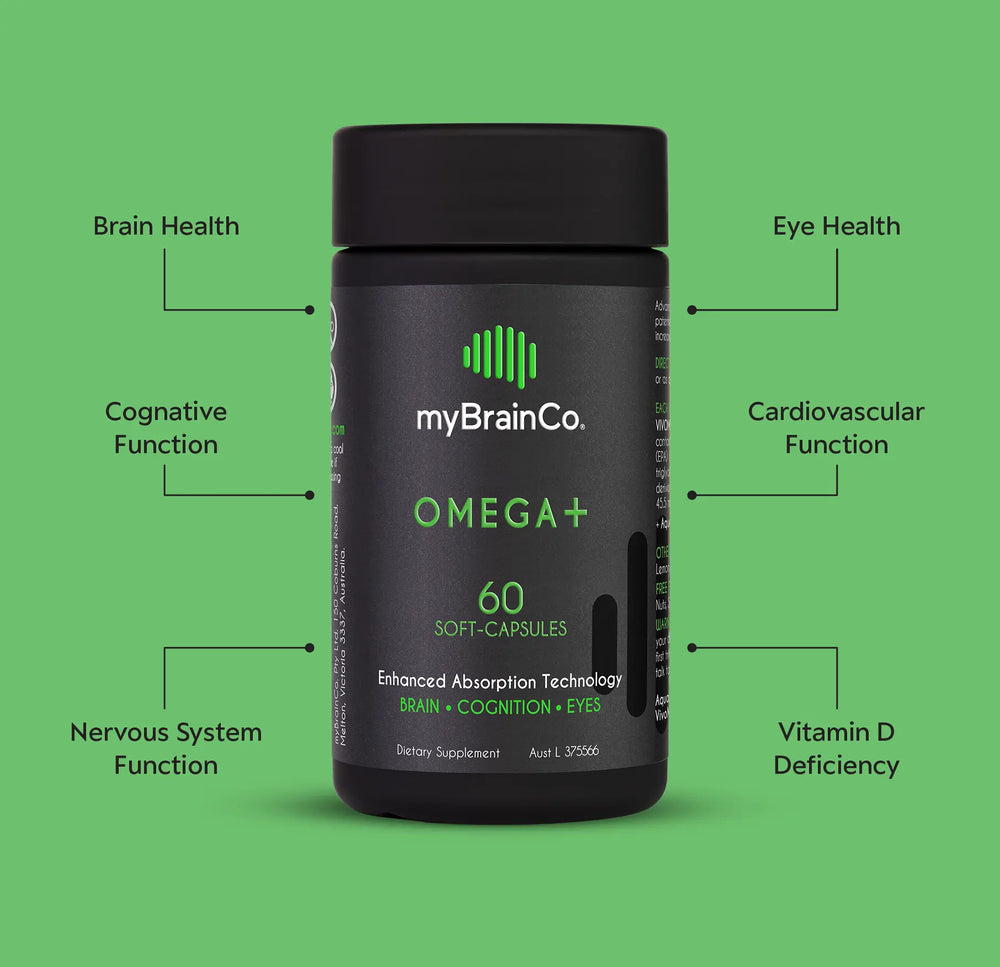 OMEGA+
OMEGA+
Cellular Health & Mental Wellbeing
60 CAPSULES – 30 DAY SUPPLY
Omega+ is a powerful blend of pure omega-3 fish oil, advanced tocotrienol form vitamin E (DeltaGold®), and natural vitamin D3, expertly formulated to support brain health, promote mood stability, and bolster nervous system function. Leveraging AquaCelle® delivery technology, it has been clinically proven to boost the absorption of fat-soluble nutrients by up to 600%.
45 DAY BACK MONEY GUARANTEE.
View full details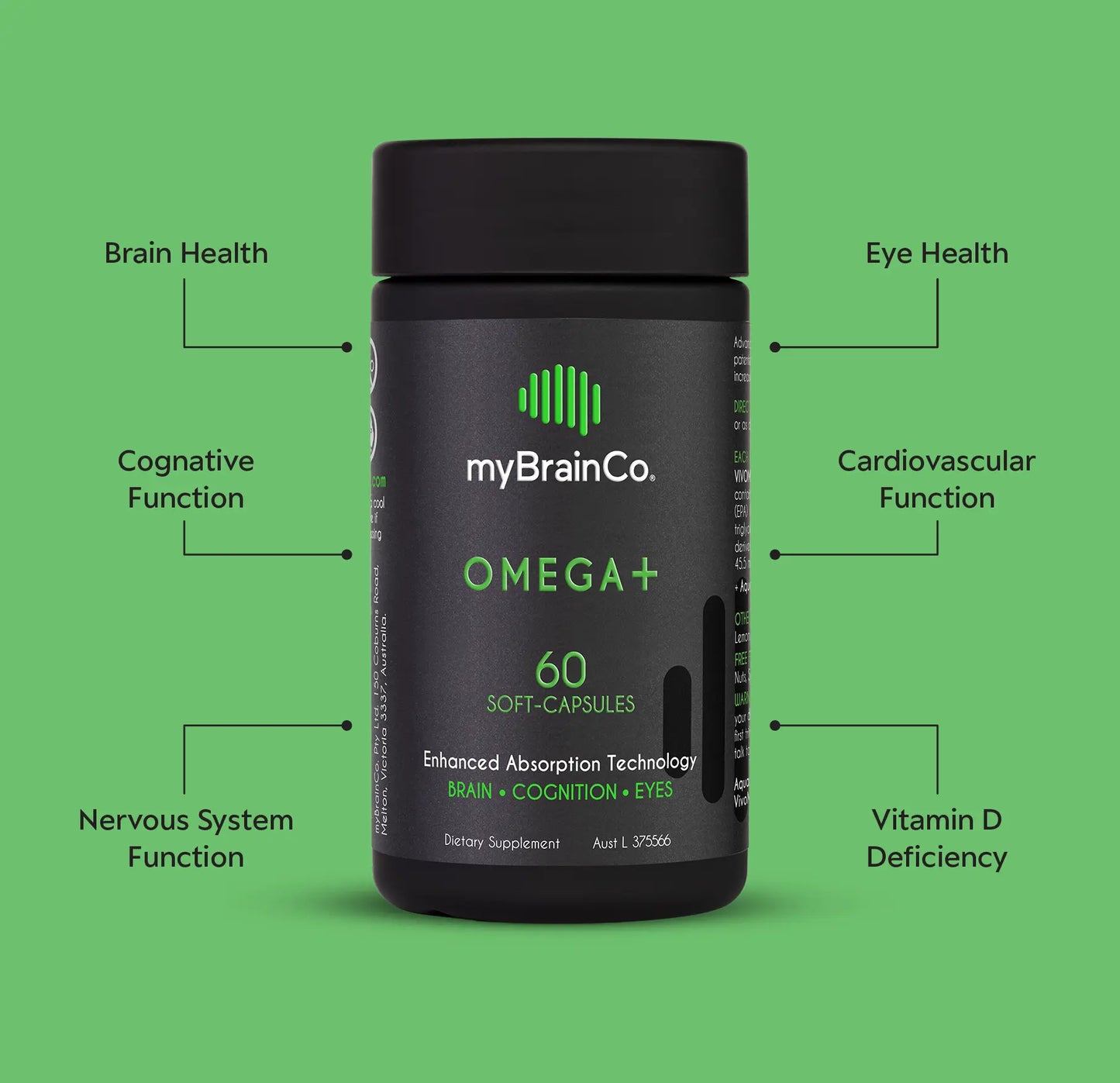 OMEGA+ benefits
SUPPORTS BRAIN HEALTH AND FUNCTION

PROMOTES HEALTHY MOOD BALANCE

PROMOTES HEALTHY NEUROTRANSMISSION

SUPPORTS NERVOUS SYSTEM FUNCTION

MAINTAINS HEALTHY EYE FUNCTION

SUPPORTS IMMUNE FUNCTION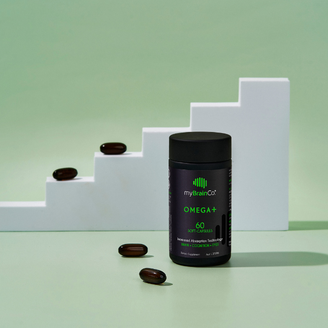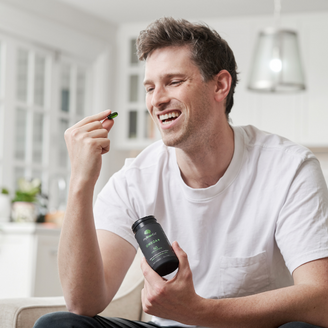 INGREDIENTS PER SERVING
VIVOMEGA™ CONCENTRATED OMEGA-3
DELTAGOLD® BIXA ORELLANA (ANNATTO)
myBrainCo difference
PATENTED DELIVERY TECHNOLOGIES
Get more from taking less. The innovative and natural technology used in the development of Omega+ allows for up to 600% better absorption of fat-soluble ingredients in the aqueous environment of the digestive system. This significantly improves the end value of the product.
PREMIUM PROPRIETARY INGREDIENTS
Omega+ contains the premium ingredients Vivomega™ and DeltaGold®, selected for their superior purity, quality and efficacy over other more common and generic forms.
THIRD-PARTY TESTED AND VALIDATED
Omega+ and its ingredients undergo comprehensive testing from accredited independent labs. These thorough assessments guarantee the integrity of the product and ensure that you receive precisely what is stated on the label, allowing you to focus on your health and well-being with confidence.
The Vivomega™ concentrate in Omega+ meets all TGA and 'Global Organization for EPA and DHA' (GOED) purity, oxidation and heavy metal standards. It then further sets the global benchmark across all these categories.
We believe in looking after our environment and actively source raw materials that share this philosophy. Vivomega™ concentrates are sustainably harvested per the global IFFO RS standards and have 'Friend of the Sea' certification.
Oxidation is a real issue with many fish oil supplements on the market and can ultimately do you more harm than good. The Vivomega™ concentrate used in Omega+ sets the global benchmark for low oxidation levels, helping to eliminate any fishy odour or aftertaste.
Omega+ has been approved by the Therapeutic Goods Administration (TGA) in Australia, with a listing number of AUST L 375566. To maintain its TGA listing and ensure product quality, it must be produced in a TGA-licensed and audited facility.
Focus on the brain
The brain is the body's fattiest organ and is comprised of around 60% fat. These fats, or lipids, are vital for optimal brain function, as they insulate and protect neurons, assist in cell membrane formation, and support hormone production. The high-fat content also contributes to the brain's energy density, allowing it to perform remarkably despite its small size. To maintain exceptional brain health and function, it's crucial to ensure a sufficient intake of healthy fats, particularly the omega-3 essential fatty acid DHA.
As we spend more time indoors, vitamin D deficiency is becoming increasingly common due to limited sun exposure. Our bodies create vitamin D when our skin is exposed to sunlight, and low levels have been linked to cognitive decline, dementia, and mood disorders such as depression and anxiety. The term "beat the winter blues" refers to combating seasonal depression, which primarily occurs during shorter, sun-deprived winter days. To maintain optimal brain health and function, it's essential to ensure an adequate intake of vitamin D.
HEALTHY CELLULAR MEMBRANES
Brain cell membrane health plays a critical role in maintaining optimal cognitive function. The cell membrane is responsible for regulating the exchange of nutrients, waste products, and signalling molecules between the interior of the cell and its surroundings. Omega+ supports the integrity and fluidity of brain cell membranes, ensuring that they can effectively carry out their crucial functions. Healthy brain cell membranes also contribute to efficient communication between neurons, which is essential for processes such as learning, memory, and decision-making. By promoting brain cell membrane health, Omega+ helps to maintain and enhance overall cognitive performance.
NEUROPROTECTIVE PROPERTIES
Fat-soluble antioxidants like tocotrienol vitamin E play a crucial role in protecting the brain from oxidative stress. Their fat-soluble nature allows them to effortlessly penetrate the brain's lipid-rich environment and provide a vital defence. This becomes increasingly significant, considering that the brain consists of around 60% fat and is highly vulnerable to oxidative damage due to its intense metabolic activity and the presence of easily oxidized fatty acids.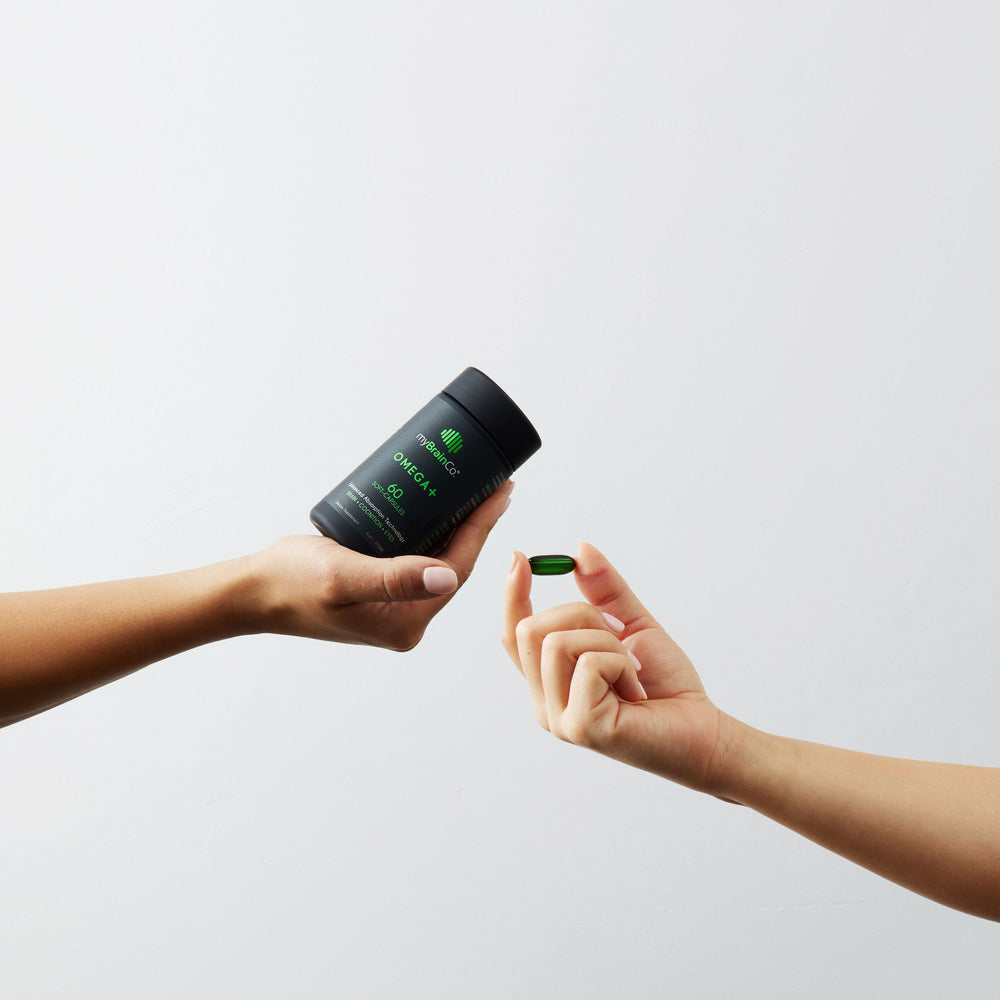 Frequently asked
IS OMEGA+ SAFE TO USE WHILE PREGNANT OR BREASTFEEDING?
While the ingredients in Omega+ are generally considered safe, it's important to first discuss any new supplement with your doctor before use when pregnant or breastfeeding, particularly in your first trimester.
WHEN CAN I EXPECT TO SEE BENEFITS FROM OMEGA+?
Results are unique to each individual and influenced by factors like diet, lifestyle and age. Most people experience benefits within the first few weeks. Consistency is the key. We recommend using Omega+ for a minimum of 3 months.
WHERE IS OMEGA+ MANUFACTURED?
Omega+ is manufactured in Australia to strict GMP (goods manufacturing practice) standards in a TGA-licenced and audited facility.
IS OMEGA+ SAFE FOR LONG-TERM USE?
You can continue taking Omega+ for as long as the formula brings you benefit. All the actives in Omega+ have been GRAS certified by the FDA (generally recognised as safe). However, if you experience any adverse effects, please stop using it and contact our clinical support team.
WILL OMEGA+ INTERACT WITH MY MEDICATIONS?
Due to the therapeutic nature of this supplement, some of the ingredients may interact with certain prescription medications. If you are taking medications, we recommend consulting your healthcare practitioner before commencing. Regularly monitoring medications such as blood thinners, cholesterol-lowering drugs and blood sugar management therapies is advised when taking omega-3. This product is not recommended in the two weeks leading up to any elective surgery.
Take two capsules daily with food in the morning with your breakfast or as directed by your healthcare professional. We recommend taking it with a meal containing healthy fats for even better absorption.
WHAT ARE PROPRIETARY INGREDIENTS AND WHY USE THEM?
Omega+ includes several specialised, patented and trademarked ingredients that are typically more effective and of higher quality than their generic counterparts. These proprietary ingredients often have improved bioavailability and innovative delivery methods and are regularly supported by clinical studies showing their effectiveness. We carefully select the most reliable proprietary ingredients from around the world for use in our products to ensure their effectiveness.
DOES OMEGA+ CONTAIN ALLERGENS OR ANIMAL PRODUCTS?
Omega+ is free of GMOs, gluten, dairy, peanut, soy, egg, artificial colours, preservatives and sweeteners. Omega+ is produced in a bovine gelatin capsule. It contains sulphites and fish products.
Money-back guarantee
45-day money back guarantee on all first time purchases. While our team of practitioners have put months of research into developing the very best products, we recognise they wont suit everyone. So if you're not happy, we will offer you a full refund, minus any shipping costs. Conditions apply.