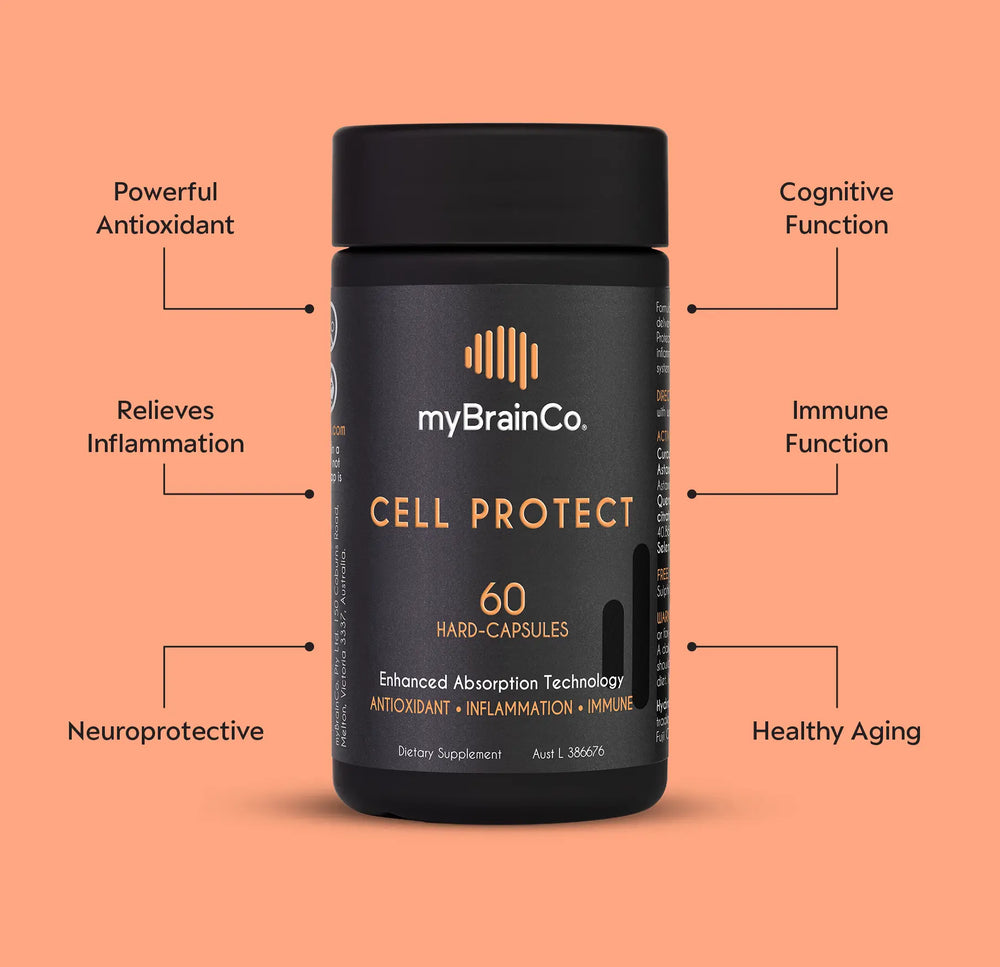 60 CAPSULES – 30 DAY SUPPLY
Cell Protect™ is a powerful anti-inflammatory, antioxidant and immune formula produced using proprietary bio-enhanced herbs and nutrients, including the world's most absorbable and awarded curcumin extract (HydroCurc®), resveratrol (VeriSperse®), Astaxanthin (AstaReal®), selenium and zinc.
45 DAY BACK MONEY GUARANTEE.
View full details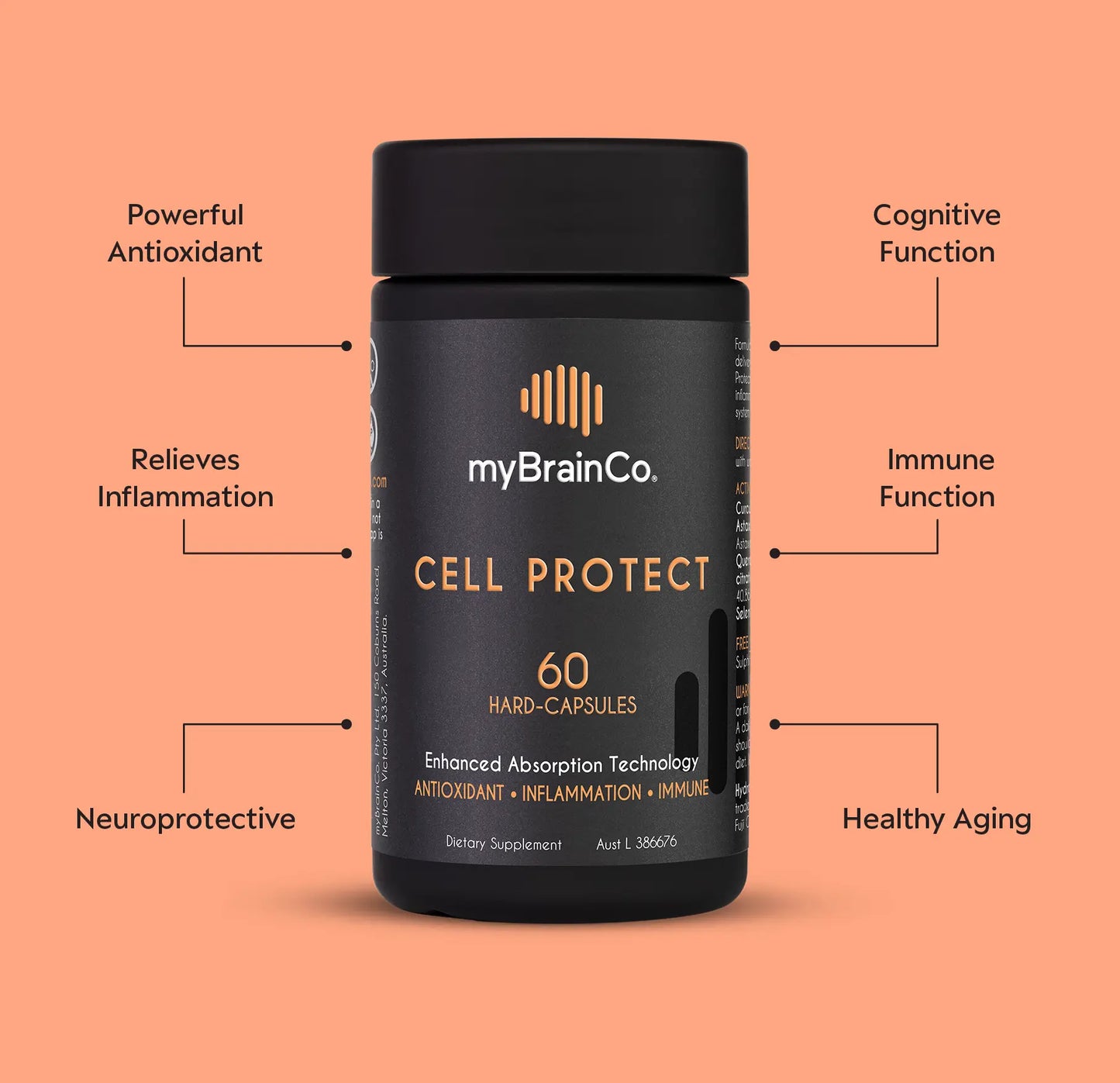 CELL PROTECT™ benefits
RELIEVES INFLAMMATION

POWERFUL ANTIOXIDANT

SUPPORTS IMMUNE SYSTEM FUNCTION

SUPPORTS COGNITIVE FUNCTION

PROMOTES HEALTHY AGING

RELIEVES MILD JOINT PAIN

RELIEVES SYMPTOMS OF MILD ARTHRITIS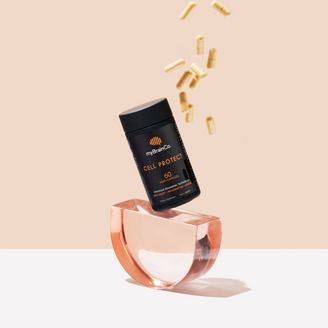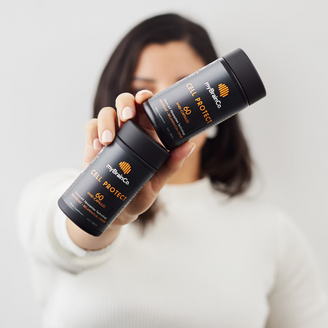 INGREDIENTS PER SERVING
VERISPERSE® TRANS-RESVERATROL
BRASSICA OLERACEA VAR. VIRIDIS
SELENIUM (AS SELENOMETHIONINE)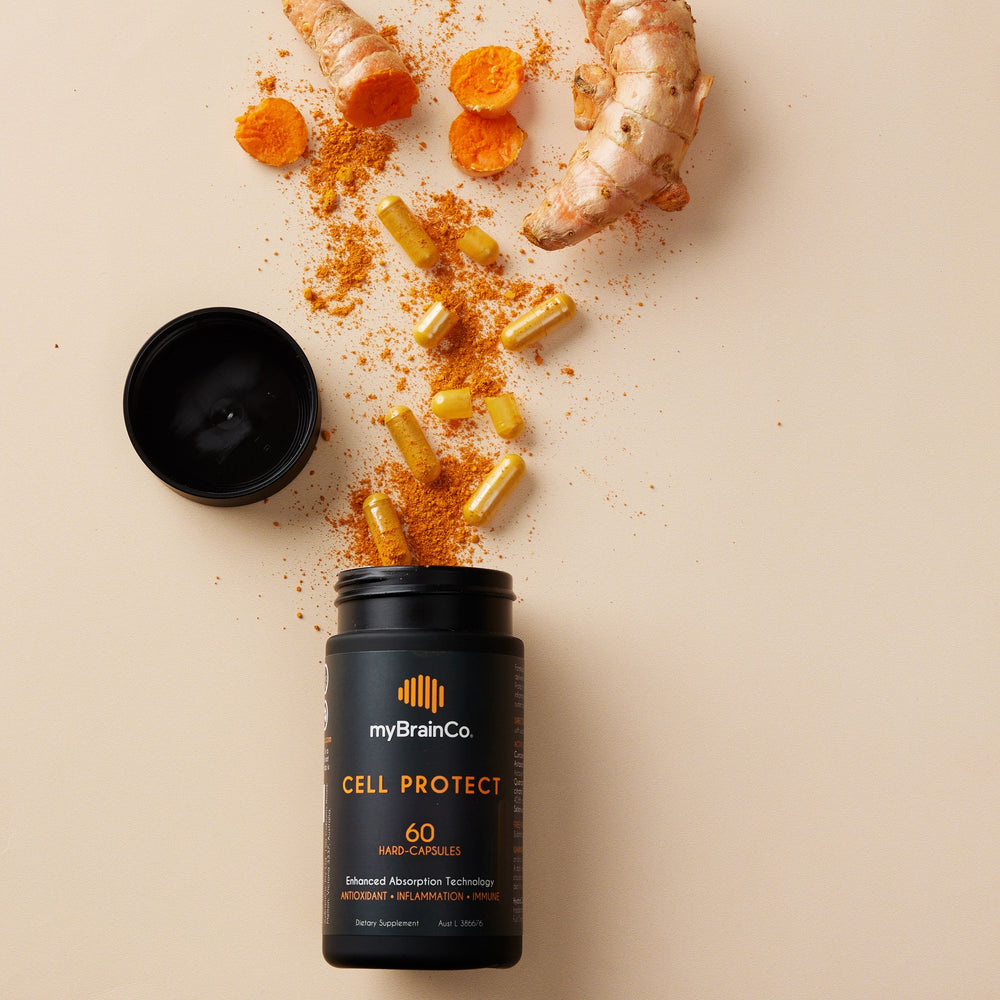 myBrainCo difference
PREMIUM PROPRIETARY INGREDIENTS
Cell Protect contains premium proprietary ingredients backed by clinical trials that offer unique quality and efficacy benefits over standard generic formats.
PATENTED DELIVERY TECHNOLOGIES
Cell Protect is packed with innovative delivery technologies, such as LipiSperse® and AquaCelle®, designed to improve the absorption of otherwise poorly absorbed ingredients and maximise their benefit. This means better results and smaller dosages.
THIRD-PARTY TESTED AND VALIDATED
All ingredients are thoroughly tested by accredited third-party laboratories to confirm their purity and authenticity. Each batch undergoes rigorous chemical, physical, and microbiological analysis and validation, ensuring the product is safe for consumption and delivers precisely what is stated on the label.
Cell Protect is a TGA-listed product (AUST L 386676) and must be manufactured in a TGA-licensed and audited facility which ensures the product meets the highest quality standards.
Focus on the brain
Your brain is particularly susceptible to oxidative stress (damage) by free radicals due to its high oxygen consumption and fat-rich structure. To protect the brain from these free radicals, also known as reactive oxygen and nitrogen species, you must maintain a high level of antioxidant defences. Oxidative stress in the brain is associated with inflammation, cognitive decline, mental health disorders and neurodegenerative diseases.
When the immune system becomes unbalanced, systemic inflammation can occur. Although inflammation is necessary to protect the body from toxins and foreign invaders, chronic inflammation can happen due to stress, toxins, poor sleep, leaky gut, deficiencies, and infections. In this state, the immune system can attack healthy cells and tissues, leading to neurodegenerative diseases, mental health disorders, and brain fog when the inflammation spreads to the brain. Maintaining the integrity of the blood-brain barrier and relieving chronic systemic inflammation is an important consideration when supporting the health and function of your brain.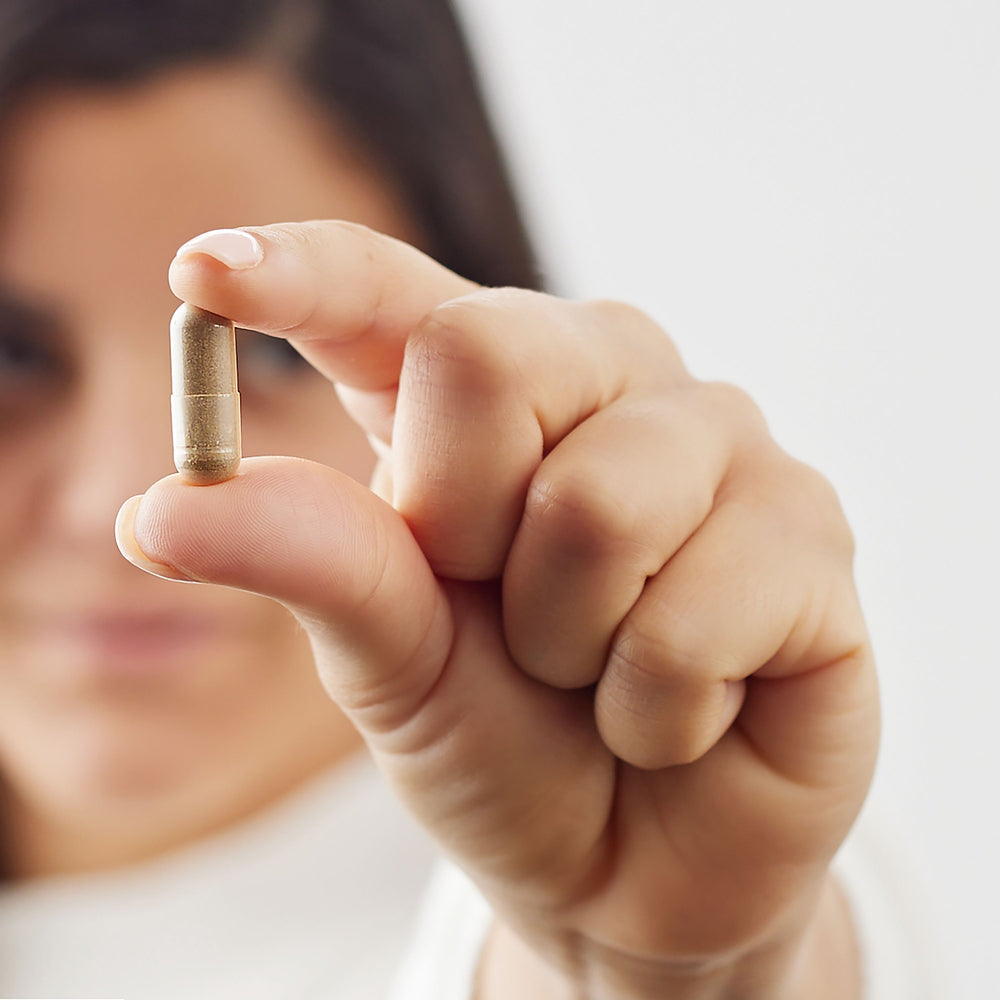 Frequently asked
IS CELL PROTECT SAFE TO USE WHILE PREGNANT OR BREASTFEEDING?
No, Cell Protect contains many ingredients with insufficient safety data for use during pregnancy and breastfeeding. If you become pregnant whilst on Cell Protect discontinue use.
HOW LONG UNTIL I START SEEING RESULTS?
Results are unique to each individual and influenced by factors like diet, lifestyle and age. Cell Protect starts working in around 30 minutes, and most people experience benefits within the first few weeks. It's important to be patient and consistent in taking this product. We recommend using Cell Protect for at least three months to get the full anti-inflammatory, cognitive and immune benefits.
WHERE IS CELL PROTECT MANUFACTURED?
Cell Protect is manufactured in Australia to strict GMP (goods manufacturing practice) standards in a TGA-licenced and audited facility.
IS CELL PROTECT SAFE FOR LONG-TERM USE?
You can continue taking Cell Protect for as long as the formula brings you benefit. It does contain a good dose of Zinc, so we recommend not using this product with other high-dose Zinc products to avoid potential dangers from large doses, such as copper deficiency. Cell Protect also contains 90 mcg of selenium per serving. Adults should not exceed a daily dose of 150 mcg from supplements. If you experience any adverse effects, please stop using it and contact our clinical support team.
WILL CELL PROTECT INTERACT WITH MY MEDICATIONS?
Cell Protect contains herbs and nutrients that may influence the liver pathways responsible for metabolising many drugs. If you take any prescribed medication, please check with your healthcare practitioner before commencing.
HOW BEST TO TAKE CELL PROTECT?
Take 2 vege-capsules once daily, with breakfast or lunch, or as directed by your healthcare professional. We recommend taking with a meal containing healthy fats for even better absorption. Make sure to maintain proper hydration levels while using this product.
WHAT ARE PROPRIETARY INGREDIENTS AND WHY USE THEM?
Cell Protect contains multiple proprietary ingredients (aka. branded ingredients), which are patented and trademarked forms of nutrients and herbs that tend to offer superior efficacy and quality over standard 'generic' versions. This is usually due to being a more bioavailable form or having a more advanced and unique delivery system. They are typically backed by gold-standard clinical trials that demonstrate their effectiveness. We actively seek out and source the world's most reputable proprietary ingredients for use in our products so that we can have confidence that our formulas will deliver results.
WHAT ARE 'STANDARDISED HERBS' AND WHY USE THEM?
Standardisation refers to a process in which herbs are lab-calibrated to guarantee a consistent and minimum level of their health-promoting active constituents in every batch of Cell Protect we produce. This ensures the quality and efficacy of the product from one batch to the next, irrespective of environmental factors that can influence the level of the actives from one season's harvest to the next. In short, standardised herbs provide reassurance and are a sign of a premium product.
DOES CELL PROTECT CONTAIN ALLERGENS OR ANIMAL PRODUCTS?
Cell Protect contains no animal products and is suitable for vegetarians and vegans. It is free of GMOs, gluten, dairy, peanut, tree nuts, soy, egg, sesame, lupin, corn, artificial colours, preservatives and sweeteners.
Money-back guarantee
45-day money back guarantee on all first time purchases. While our team of practitioners have put months of research into developing the very best products, we recognise they wont suit everyone. So if you're not happy, we will offer you a full refund, minus any shipping costs. Conditions apply.