Our practitioner team have carefully curated the Inflammation Bundle to help relieve systemic inflammation, support immune function and promote healthy aging through targeted antioxidant support.
45 DAY BACK MONEY GUARANTEE.
View full details
INFLAMMATION BUNDLE benefits
RELIEVES INFLAMMATION

POWERFUL ANTIOXIDANTS

SUPPORTS IMMUNE SYSTEM FUNCTION

PROMOTES HEALTHY AGING

PROTECTS GUT LINING INTEGRITY

PROMOTES A HEALTHY GUT MICROBIOME

SOOTHES GUT INFLAMMATION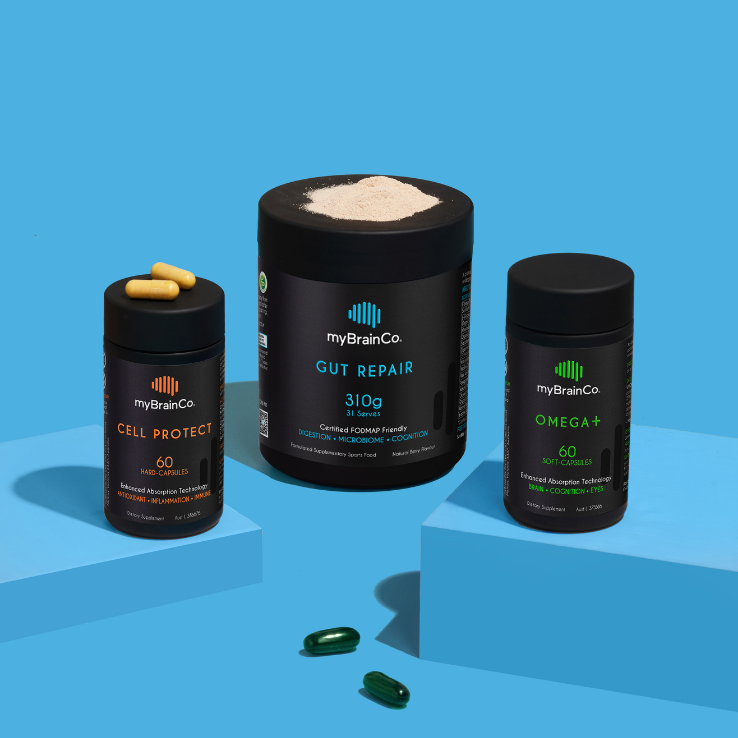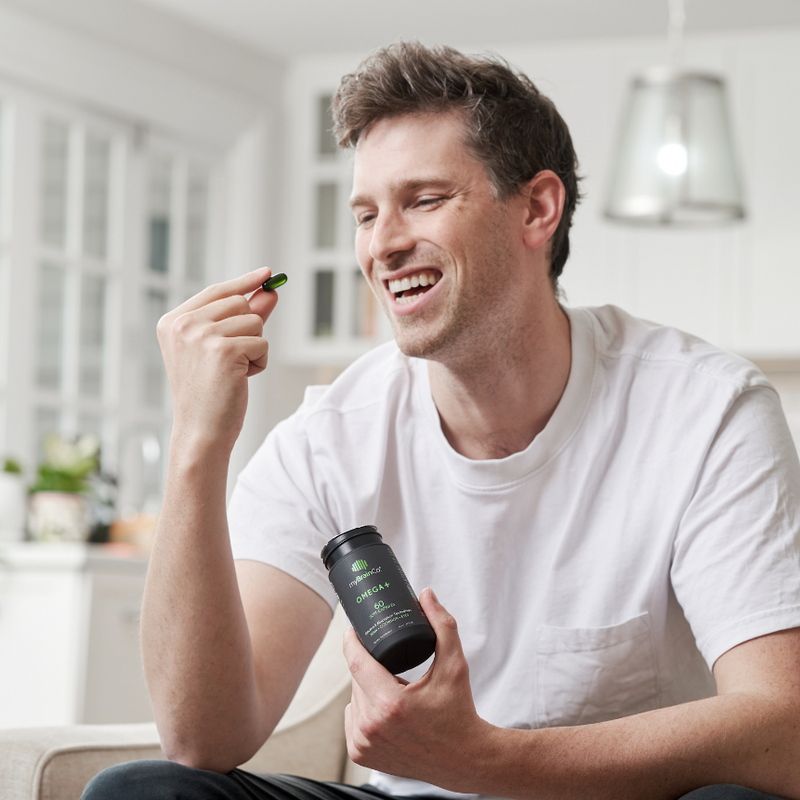 What's included?
INGREDIENTS PER SERVING
VERISPERSE® TRANS-RESVERATROL
BRASSICA OLERACEA VAR. VIRIDIS
SELENIUM (AS SELENOMETHIONINE)
INGREDIENTS PER SERVING
ORGANIC GREEN BANANA RESISTANT STARCH
ORGANIC ACEROLA - VITAMIN C
SACCHAROMYCES CEREVISIAE – ZINC
SERVING SIZE: 10g
SERVES PER BOTTLE: 31
| | | |
| --- | --- | --- |
| | Av. Quantity per 10 g | Av. Quantity per 100 g |
| Energy (kj) | 79 | 792 |
| - (kcal) | 19 | 189 |
| Protein | 0.2 g | 1.7 g |
| Fat (total) | 0.0 g | 0.2 g |
| Fat (saturated) | 0.0 g | 0.1 g |
| Carbohydrates (total) | 4.6 g | 46 g |
| Carbohydrates (sugar) | 0.3 g | 2.9 g |
| Dietary Fibre | 4.7 g | 47 g |
| - soluble fibre | 4 g | 40 g |
| - resistant starch | 0.7 g | 7.0 g |
| Sodium | 4 mg | 43 mg |
| Vitamin C | 10 mg | 100 mg |
| Zinc | 1.2 mg | 12 mg |
| Probiotic Count (shelf stable) | 7 Billion CFU | 70 Billion CFU |
INGREDIENTS PER SERVING
VIVOMEGA™ CONCENTRATED OMEGA-3
DELTAGOLD® BIXA ORELLANA (ANNATTO)
Frequently asked
IS THE BUNDLE SAFE TO USE WHILE PREGNANT OR BREASTFEEDING?
No, the Inflammation Bundle products contain many ingredients with insufficient safety data for use during pregnancy and breastfeeding. If you become pregnant whilst using these products, discontinue use.
WHEN CAN I EXPECT TO SEE BENEFITS FROM THE BUNDLE?
Results are unique to each individual and influenced by factors like diet, lifestyle, health status and age; however, the products included in the bundle start working in around 30 minutes, and most people experience benefits within the first few weeks. It's important to be patient and consistent in taking these products. We recommend using them for at least three months for full benefit.
WHERE ARE THE BUNDLE PRODUCTS MANUFACTURED?
All the products in the Inflammation Bundle are produced in an Australian facility that adheres to strict goods manufacturing practices (GMP) and is licenced and audited by the Therapeutic Goods Administration (TGA).
ARE THE PRODUCTS IN THE BUNDLE SAFE FOR LONG-TERM USE?
You can continue taking the products for as long as they bring you benefit. Cell Protect does contain a good dose of Zinc, so we recommend not using this product with other high-dose Zinc products to avoid potential dangers from large doses, such as copper deficiency. Cell Protect also contains 90 mcg of selenium per serving. Adults should not exceed a daily dose of 150 mcg from supplements. If you experience any adverse effects, please stop using the products and contact our clinical support team.
WILL THE PRODUCTS IN THE BUNDLE INTERACT WITH MY MEDICATIONS?
The products in the Inflammation Bundle contain herbs and nutrients that may influence the liver pathways responsible for metabolising many drugs. If you take any prescribed medication, please check with your healthcare practitioner before commencing.
HOW BEST TO TAKE THE PRODUCTS IN THE BUNDLE?
CELL PROTECT: Take 2 vege-capsules once daily, with breakfast or lunch, or as directed by your healthcare professional. OMEGA+: Take 2 capsules daily with food or as directed by your healthcare professional. GUT REPAIR: Take 1 scoop (10g) per day in water or mix with your favourite juice or smoothie. We recommend taking your Gut Repair first thing in the morning or just after dinner. If you have a sensitive tummy, start with a teaspoon and gradually increase your dose over a few days or weeks. This can help your body adjust to the supplement and make your Gut Repair journey more comfortable.
Money-back guarantee
45-day money back guarantee on all first time purchases. While our team of practitioners have put months of research into developing the very best products, we recognise they wont suit everyone. So if you're not happy, we will offer you a full refund, minus any shipping costs. Conditions apply.